How to Use Your Exhibitor Kit
Welcome to your Exhibitor Kit! Please use the following links to learn more about what you need to do to prepare for the show.
Contact the Show Team
If you need assistance before, during, or after the show, please click here to contact a member of the show team. On site, the Exhibitor Entrance and Show Office are located in Room 106.
SHOW NOW THREE DAYS ONLY!
FRIDAY-SUNDAY
2022 EXHIBITOR KIT

Manuals & Forms below are linked - please just click name to read.
*Advance Order Deadline Monday, September 19, 2022.
*Advance Order Deadline for Lowest Rates Mon., September 19, 2022. **Telecommunication / Internet Form Final Deadline Mon., September 19, 2022.
Questions? Call or email Ashley McKenzie, Show Coordinator, at (704) 969-6818 or AshleyM@mpeshows.com for assistance.
Invite Your Customers to the Show!
Upload the image to your social media, email blasts, and website to promote your company's participation at the 2022 Jacksonville Home + Patio Show. To save to your computer, right click on the photo and select "Save image as..."
Tag us on Facebook @JacksonvilleHomeShow and on Instagram @JacksonvilleHomeShows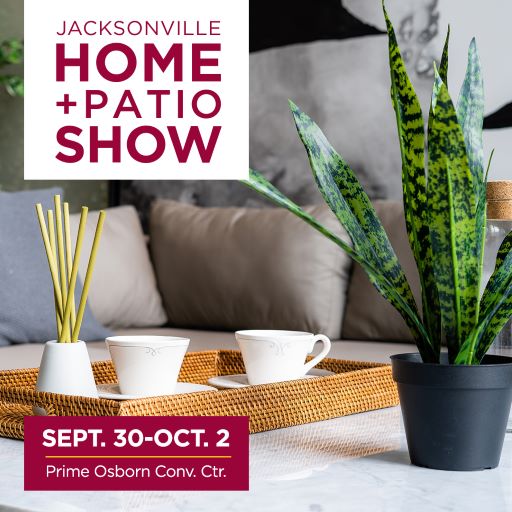 Exhibitor Listing Instructions
Don't miss leads! Your basic Exhibitor Listing will be uploaded to the website when you book your booth. Within 24 hours you will receive an automated email to enhance your listing. This link can be used multiple times and you can make updates and changes to your listing until ONE day after the show commences. If you have any questions regarding the online exhibitor listing or did not receive the link, please email Jen Kropf, JenK@mpeshows.com, at least one week prior to the show.
Need help with your listing? Click here to view a video tutorial!
NEARBY HOTEL ACCOMMODATIONS
Residence Inn Jacksonville Downtown
357 Oak St
Jacksonville, FL 32204
(904) 580-5455